Gone are the days of manual parking management; the rise of parking lot management systems has paved the way for businesses to optimize their operations, reduce costs, and tap into valuable data that fuels customer satisfaction and boosts the bottom line. A parking lot management system is a technological advancement that streamlines the management of parking spaces and increases efficiency and profitability. These digital parking solutions help businesses manage everyday operations and the challenges of parking management while giving them invaluable information to boost customer satisfaction and revenue.
The following are a few key features of parking lot management systems that maximize efficiency and profitability for your business:
Automated Entry and Exit Systems
Optimized Parking Space Utilization
In order to maximize parking space utilization, automated entry and exit systems are essential. These technologies get rid of the bottleneck frequently brought on by human ticketing or payment procedures by facilitating quick and seamless car entry and exit from the facility. This fast movement not only cuts down on wait times at entries and exits, but also makes sure that parking spaces are quickly turned over. Faster turnover allows a parking lot to accommodate more vehicles in the same amount of space over time, ultimately maximizing use.
Enhanced Customer Experience
Automated entry and exit systems are a game-changer, enhancing the consumer experience with simplified parking processes. The use of radio-frequency identification (RFID) or license plate recognition systems has eliminated the need for long lines for customers and eliminates the need for them to struggle with tickets or cash. In addition to enhancing the parking experience overall, its practicality and effectiveness raises the possibility of repeat business and recommendations. Additionally, they dramatically increase income by increasing the number of cars using the parking lot in a given amount of time, encouraging customer loyalty, and lowering labour expenses as well as the possibility of human error.
Dynamic Pricing
Optimized Parking Space Utilization and Revenue Optimization
Dynamic pricing is a successful strategy that significantly increases parking space occupancy by modifying prices in response to demand, the time of day, or special occasions. Pricing can be raised to reflect the higher worth of the few available places during busy times or periods of high demand. This promotes quicker turnover, which enables more cars to use the parking lot in a given amount of time while discouraging long-term parking and freeing up places for additional customers. Similarly, pricing can be reduced to entice more customers during times of low demand, ensuring that parking spaces are occupied rather than going underused. Smart parking systems implement dynamic pricing to increase revenue from each space during high-demand periods, while lower prices during off-peak hours attract a steady flow of consumers, ensuring a consistent income stream.
Space Reservation
Enhanced Customer Experience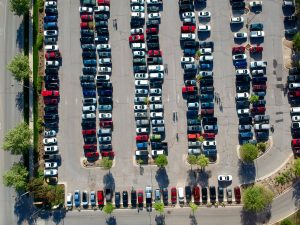 Space reservation abilities can increase customer satisfaction because it provides the ease and assurance that comes with knowing a parking place is guaranteed upon arrival, removing the stress of looking for an open spot, especially in congested or high-demand regions. This function is especially useful for people who are in a rush or who are attending events because it guarantees that they can park their cars quickly and take care of their urgent needs right away. Space reservation boosts customer satisfaction by offering this degree of comfort and assurance and also promotes loyalty by encouraging consumers to stick with the same facility for their future parking needs.
Real-Time Monitoring
Streamlined Parking Operations
Real-time monitoring simplifies parking operations because it facilitates effective management of the parking facility by delivering real-time information on vehicle movement, parking space occupancy, and other important parameters. Real-time monitoring, for instance, can instantly locate open spaces, direct arriving cars to those locations, and update the system when the spaces are occupied. Additionally, it makes it easier to quickly identify and address possible problems like illegal parking or vehicles blocking driveways, assuring efficient operations. 
Enhanced Customer Experience
Real-time monitoring greatly improves the parking process from the perspective of the consumer. Parking management software cuts down on the time and stress involved in looking for a parking spot by delivering real-time updates on space availability, either through mobile apps or digital signage. To further simplify the parking process, it can also include features like automatic payment or space reservation systems. Additionally, the security offered by a constantly monitored parking facility can increase customer trust and pleasure because customers know their cars are in a secure and well-run environment. Real-time monitoring helps create a smooth and satisfying customer experience in promoting frequent use of the parking lot.
Convenient Payment Options
Enhanced Customer Experience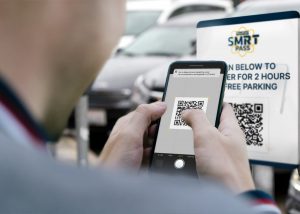 Parking lot management systems often provide convenient payment options. Traditional parking lots frequently require users to pay with cash or a credit card at a payment station. Modern smart parking technologies, however, can provide a variety of payment methods, such as mobile payments, online payments, QR codes, and even subscription services for frequent users. With QR codes, users don't need to download another parking app, which can be a hassle. With all of these alternatives, customers can easily pay in the method that suits them most, which improves their whole experience.
Revenue Optimization
Integration with payment gateways or loyalty programs also plays a role in revenue optimization. Seamless integration with various payment platforms provides customers with multiple convenient ways to pay for parking, ensuring that making a payment is never a barrier to using the parking facility. Loyalty programs, on the other hand, incentivize repeat use of the parking facility. By offering discounts or rewards to regular users, these programs can foster customer loyalty and increase long-term revenue.
Concord CTRL's SMRTPass feature allows customers to pay contactless via mobile, without the need for an app download. Get Concord's parking management system to reap the benefits of convenient payment options for your customers. Get a Demo now!
Zoning
Optimized Parking Space Utilization
Parking lot management systems can designate specific zones for electric vehicles and shared mobility services, further maximizing the use of available space. For instance, designating specific parking and charging areas for electric vehicles not only draws in a new clientele but also makes better use of the space that's already available. 
Business Reputation
A well-managed parking facility can generate revenue indirectly by enhancing the overall reputation of the business. Customers are more inclined to visit the linked business and improve sales and revenue if they have a satisfactory parking lot experience.
Improving Security and Safety
One of the most important aspects of managing parking lots is ensuring safety and security. Both actions are necessary to maintain a good reputation and encourage client loyalty in addition to fulfilling legal obligations. Multiple tools and features are used by advanced parking lot management systems to uphold these criteria. For example, surveillance cameras provide ongoing facility monitoring, deterring possible ill-intent and facilitating quick reactions to problems.
Another important component is access control systems, which only allow authorized vehicles access, lowering the danger of theft or vandalism. Real-time monitoring, which tracks the real-time status of the parking lot, plays a significant role in spotting possible problems, abnormalities, or security threats. Additionally, these technologies help in quick emergency response, cutting down on reaction times and potentially preventing additional harm or saving lives. Parking facilities can provide a secure atmosphere, foster repeat business, increase reputation, and increase revenue by putting these solutions in place.
Experience effortless parking compliance and handle violation disputes with ease with Concord Parking's Enforcement CTRL feature. Discover the power of Concord CTRL's innovative features and streamline your parking management processes. Learn more now.
Data Analytics and Reporting
Parking lot management benefits considerably from thorough data analytics and reporting in today's data-driven corporate climate. A thorough parking lot management system collects a multitude of information, including occupancy rates, peak hours, consumer behaviour, and payment methods. This wealth of data is essential for evaluating the parking facility's effectiveness and identifying areas for improvement.
Analytics on usage trends can improve customer experiences, customize personnel requirements, and influence dynamic pricing tactics. For instance, management can modify prices or make sure there's enough staffing if data shows high occupancy during particular hours. Similarly, knowing how customers behave, such as their typical length of stay or preferred means of payment, can help to improve the customer experience and encourage loyalty.
These abilities are further improved by predictive analytics, which allows for accurate demand projections and proactive strategy modifications. Detailed reports also give performance summaries so that you can track your progress toward your goals and communicate with all parties involved. Thus, these data analytics and reporting capabilities promote operational effectiveness, client satisfaction, and overall parking lot management profitability.
Reaping the Benefits of Parking Management Systems
Employing a comprehensive parking lot management system is an indispensable strategy for businesses aiming to maximize efficiency and profitability in their parking facilities. This system can maximize space utilization, improve the client experience, and boost income because it includes features like automatic entry and exit systems, dynamic pricing, real-time monitoring, convenient payment alternatives, and data analytics. Along with preserving security and safety, other factors like zoning, and business reputation also play a role in developing a holistic parking experience that encourages customer loyalty and repeat business.
By putting such a system in place, daily operations are streamlined and significant data-driven insights are provided for smart decision-making. This gives organizations the ability to continuously modify and enhance their strategy in response to shifting trends and customer requests. In order to navigate the changing business landscape, investing in a parking lot management system is a wise move that promises significant rewards in the shape of improved productivity, customer satisfaction, and profitability.
Ready to install a parking management system in your facility? Get a Demo to see how Concord CTRL can benefit your business.